BACK IN STOCK! -- FLASH THUMBTIP 2.0 - WHITE Light - two gimmick set
You will absolutely amaze everyone with the ultra bright "Flash Thumbtip 2.0" outfit. This latest incarnation is the BRIGHTEST ever made available! The ultra-bright LED's are virtually blinding!
There are SO many possibilities with these! Make an ice cube glow in your bare hands. Make the light appear and disappear from just about anywhere. Pass the light from one ear all the way through to the other! Take the light out of your mouth.
Show your hands empty, then pluck a bright white light out of thin air, pass it from hand to hand, then finally and make it disappear. Put a light in your mouth, then pull it out of your ear! Magical ideas and concepts using this amazing utility outfit are limited only by your imagination.
Set includes TWO ultra bright Flash Thumbtip 2.0 gimmicks, charger, and instructions.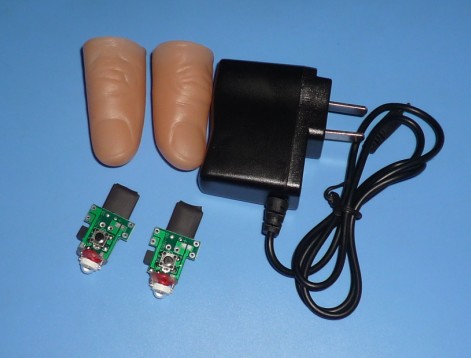 NOTE - Color of lights is BRIGHT WHITE. (Use this set in conjunction with our "Electronic Flash Wand" for even MORE routining possibilities!)

Suggested retail price is $79.95. Own a set today for only...
$29.95
PLEASE NOTE - If you are not ordering for U.S. delivery, you MUST contact me BEFORE ordering to determine shipping options and rates. The flat rate postage fee DOES NOT APPLY to orders shipped OUTSIDE the United States. Simply send me a list of the items you wish to order and I'll get back to you with the shipping options and rates. Once you decide how you'd like the order shipped, I can send a PayPal invoice directly to you (or we can work out other payment arrangements, if necessary). Thank you!
Flash Thumbtip 2.0 - WHITE Light - two piece set
Product Code: FTT - MB17
Availability: 4
Related Products
Tags: Flash, Thumbtip, magic, trick, transformation