This is a set of TWO matched fine quality silks, each about 8" square. One silk features a picture of a blank card and the other silk features a full color King of Clubs on a blue background.
The fine quality and small size will enable you to easily conceal either of the silks in a thumb tip. There are several ways to use this pair of silks for an offbeat "extra" to your card routines, plus the set comes with some ideas utilizing the silks to start you off.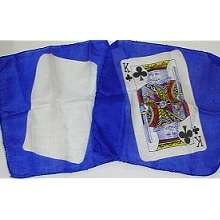 Complete with set of two pure silks and instructions. A real bargain at only...


$4.95

PLEASE NOTE - If you are not ordering for U.S. delivery, you MUST contact me BEFORE ordering to determine shipping options and rates. The flat rate postage fee DOES NOT APPLY to orders shipped OUTSIDE the United States. Simply send me a list of the items you wish to order and I'll get back to you with the shipping options and rates. Once you decide how you'd like the order shipped, I can send a PayPal invoice directly to you (or we can work out other payment arrangements, if necessary). Thank you!
Silks - Thumbtip Card Silk Set - King of Clubs
Product Code: S~TTCSS~KC - MB20
Availability: 2
Related Products