This is a true piece of ventriloquial history!
In 1966, Paul Winchell produced his own Jerry Mahoney and Knucklehead Smiff toy puppets, having ended his association with Juro Novelty Co. The 1966 versions of his puppets were sculpted by Winchell himself and looked much more like the originals than the Juro versions. Along with the dummy, the eager beginning ventriloquist was provided a pamphlet called, "How to be a Ventriloquist (for the Beginner)".
Interestingly enough, the concise instructions taught in Winchell's pamphlet are really quite exceptional. His advice on developing the substitute sounds is as good if not better than virtually anything else out there at the time... and even today! Yes, you can still spend a small fortune on online courses... or you can digest this small eight page pamphlet and get just as much useful information!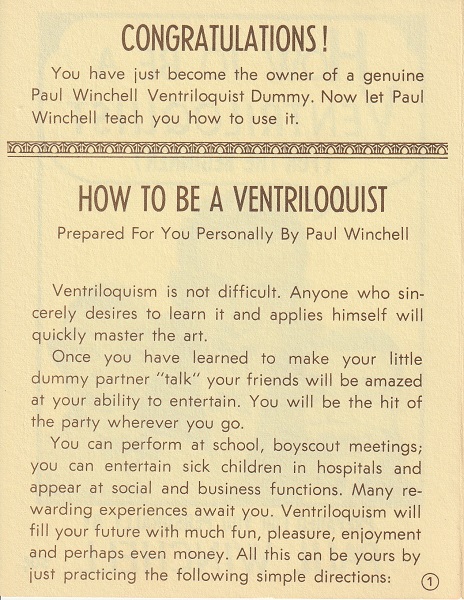 These pamphlets were stored in Winchell's own garage for many years. At some point, the late Jerry Layne "rescued" them from the trash and stored them in his own workshop for many years! And now, due to a special arrangement with Jerry's family, I can offer them to you.
Own an amazing piece of vent history that was rescued from certain loss...

Each 4-1/4" x 5-1/2" eight page pamphlet is in MINT condition! RARE!
While they last, only...

$5.00 each

PLEASE NOTE - If you are not ordering for U.S. delivery, you MUST contact me BEFORE ordering to determine shipping options and rates. The flat rate postage fee DOES NOT APPLY to orders shipped OUTSIDE the United States. Simply send me a list of the items you wish to order and I'll get back to you with the shipping options and rates. Once you decide how you'd like the order shipped, I can send a PayPal invoice directly to you (or we can work out other payment arrangements, if necessary). Thank you!

Paul Winchell Dummy Pamphlet - 1966
Product Code: PWDP- VB3
Availability: 22
Related Products
Tags: Ventriloquist, Winchell, instructional, pamphlet, knucklehead, Jerry, Mahoney, how to, Juro