The "Himber Wallet" has long been the standard utility apparatus to make cards and bills appear, disappear or change. Unfortunately, the "Himber Wallet" has some drawbacks that make it appear unlike a regular wallet to the astute observer. Now, all the disadvantages of the previous "Himber Wallet" types have been completely resolved, as Mr. Fujimura of Japan has created a superior new design. He calls it, the "W Wallet".
This new wallet has NO straps and it's NOT a "Z-fold" wallet. The opening side is always the same (like a book), and it's even possible to allow your audience to open this wallet (due to a magnetic "lock"). It's very high quality and, of course, no skill or special technique is required to use it.
Easy to perform, this wallet is made by highly skilled craftsman and is superior high quality. Once you have the wallet in your hands, you will absolutely recognize the difference.
The money routine - "Money Printer" - is better than the old Polaroid money routine...in fact, it's what caused this wallet to be a complete sell out at FISM! In effect, the magician opens his wallet and removes a small stack of blank paper. There is also a single bill in the wallet. One of the blank sheets is placed over the bill and the wallet momentarily closed. In the blink of an eye, the wallet is opened to reveal that the paper has transformed into a real bill! The magician proceeds to print bills again and again! For an extra surprise finale', he creates a larger denomination bill from a blank paper inside the wallet!!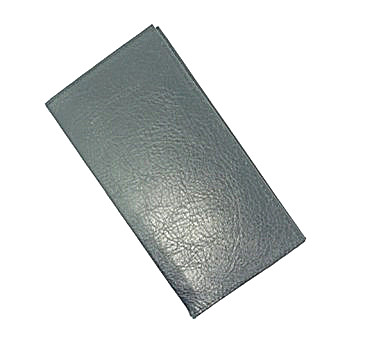 Comes with W Wallet (measures approximately 4" x 7-1/4"), blank papers of the correct size (for US Currency), and link to an online tutorial.
NOTE - This is in my 'Used/Collectable" category, meaning I have ONE or TWO only. When it sells, I do not know when or even IF I will be able to get another. If you're interested in it, please do not hesitate!
Regular retail price is $90.00. This one is new and unused and you may own it for only...
$69.95 - NEW LOWER PRICE - $59.95
PLEASE NOTE - If you are not ordering for U.S. delivery, you MUST contact me BEFORE ordering to determine shipping options and rates. The flat rate postage fee DOES NOT APPLY to orders shipped OUTSIDE the United States. Simply send me a list of the items you wish to order and I'll get back to you with the shipping options and rates. Once you decide how you'd like the order shipped, I can send a PayPal invoice directly to you (or we can work out other payment arrangements, if necessary). Thank you!

W Wallet with Money Printer
Product Code: WW - MB13
Availability: 1
Related Products