SHIRT POCKET HIMBER SWITCH WALLET
Accomplish mental miracles and great card magic with this outstanding utility prop! Accurate predictions, amazing card magic, and more can be yours by using this as a mere tool. With the right presentation, spectators may even forget you ever used it!
Items placed in this wallet can be instantly switched without the spectator's knowledge. Imagine the effects you can do! It's minimalist design makes the wallet itself inconspicuous...it's comfortable and clean and easy to use.It looks like a wallet you'd carry your business cards and/or ID in.
Of course, we in the trade know this as a "Himber-style" wallet. It's apparently just a simple wallet with a clear pocket on one side of the interior and a couple of pockets on the facing side. This new release is made top quality black leather with a beautiful light grain finish. It appears to be completely innocent...plain... and that makes it diabolical!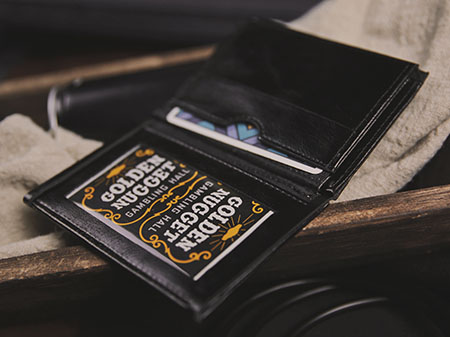 If you've never used one of these, it's really just this simple: Place a playing card in the wallet. Close the wallet. Open the wallet back up and the playing card has vanished! Or it has changed into another card. Or changed into a bill. Or...well, get the idea? The possibilities are limited ONLY by your own imagination!
The wallet when closed measures 3" wide x 4-3/8" high x 3/8" thick.

You receive the nicely-boxed leather wallet plus a link to an on-line tutorial. Retail is $34.95. Order one today for only ...
$24.95
PLEASE NOTE - If you are not ordering for U.S. delivery, you MUST contact me BEFORE ordering to determine shipping options and rates. The flat rate postage fee DOES NOT APPLY to orders shipped OUTSIDE the United States. Simply send me a list of the items you wish to order and I'll get back to you with the shipping options and rates. Once you decide how you'd like the order shipped, I can send a PayPal invoice directly to you (or we can work out other payment arrangements, if necessary). Thank you!
Shirt Pocket Himber Switch Wallet - Leather
Product Code: SPHSW - MB8
Availability: 1
Related Products
Tags: Shirt, Pocket, Himber, Switch, Wallet, leather, magic, trick