Fine replicas of U.S. Walking Liberty Half Dollars are the HOT new thing for coin workers. Why risk losing valuable keepsake coins - an investment of literally hundreds of dollars - when you can use a perfect substitute? Your audiences will NEVER know!
In the classic Sun and Moon routine, a Walking Liberty Half Dollar and a copper British penny magically transpose from one hand to the other. It's a beautifully visual trick, with NO angles. It's just about as close to a perfect coin trick as you're going to find!
With this new set, you can do vanishes and transpositions and more! Many, many routines are possible. This precision-made set is ideal for the beginner, yet a perfect utility set for the advanced coin worker, too!
Unlike many other Sun and Moon coin sets on the market, the shell in this set can cover any of the three coins, so even more routines are possible!
Here's a basic idea...just one of MANY effects possible with this remarkable set...
Comes with the Copper/Silver coin, matching shell, plus an ungimmicked English Penny and an ungimmicked Walking Liberty replica. Also included is a link to an instructional video teaching an elegant and powerfully COMMERCIAL routine. Finally, you'll ALSO receive my own favorite C/S coin routine, "The Silver Copper Hopper". This short and easy coin routine was a feature in my strolling and restaurant work for many years. It was previously published in my "Funny Stuff..." book, but has been out of print for many years.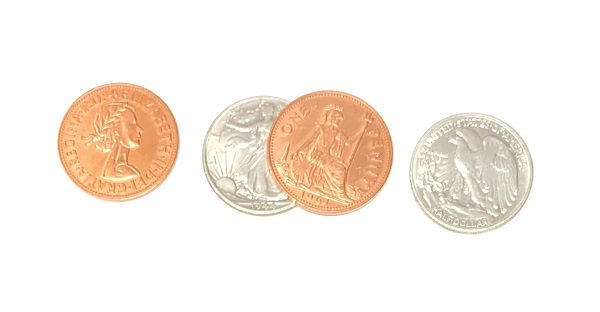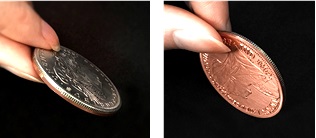 This set is an OUTSTANDING value! Even a beginner will be able to perform professional-level coin magic with just a bit of effort.... Don't pass this by!

See other listings on this site for matching Walking Liberty Half Dollar replicas and complete sets.
$29.95
PLEASE NOTE - If you are not ordering for U.S. delivery, you MUST contact me BEFORE ordering to determine shipping options and rates. The flat rate postage fee DOES NOT APPLY to orders shipped OUTSIDE the United States. Simply send me a list of the items you wish to order and I'll get back to you with the shipping options and rates. Once you decide how you'd like the order shipped, I can send a PayPal invoice directly to you (or we can work out other payment arrangements, if necessary). Thank you!

(Disclaimer - These novelty coin reproductions are for use by magicians only. They are NOT legal tender and attempts to use them as such is punishable by law.)

Walking Liberty Half Dollar Replica Sun and Moon Coin Set PLUS
Product Code: WLHDSAMS - RB7
Availability: 1
Related Products
Tags: Walking liberty, half dollar, replica, coin, coins, shell, magic, trick, English penny