BACK IN STOCK!
This latest set of gaffed coins opens up an entire new realm of possibilities for both the beginning and advanced coin worker!
These special Walking Liberty Half Dollar coins have incredibly strong magnetism, even with up to one hundred cards (two decks) between them.
Many effects are possible.... Here are just a few: Knife Coin - Magician shows empty hands and a table-knife. He clenches his fist and shakes the knife, then three coins appear. Then he clenches his fist and when he opens it again, all the coins have vanished! Classic Movement - Magician grabs two coins from thin air and places one in each hand. The coin in left hand magically travels into his right hand! Coin through Mug - Magician quickly knocks a coin against the bottom of a mug, and the coin instantly penetrates to the interior of the mug! Coins Transfer - Magician shows three coins in his left hand. These coins jump into his right hand one by one, and finally they all vanish!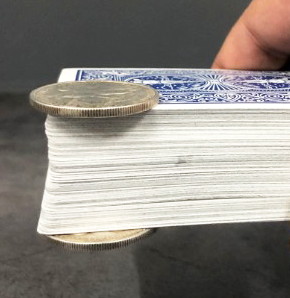 The photo above shows two of the Super Power Coins adhering to each other with TWO complete decks between them!

A video demo of some of the possibilities:
Set comes complete with two super strong magnetic Walking Liberty Half Dollar replica coins, two ungaffed Walking Liberty Half Dollar replica coins and a link to an on-line video tutorial.
Suggested retail price is $59.95. Own a set today for only...

$39.95
PLEASE NOTE - If you are not ordering for U.S. delivery, you MUST contact me BEFORE ordering to determine shipping options and rates. The flat rate postage fee DOES NOT APPLY to orders shipped OUTSIDE the United States. Simply send me a list of the items you wish to order and I'll get back to you with the shipping options and rates. Once you decide how you'd like the order shipped, I can send a PayPal invoice directly to you (or we can work out other payment arrangements, if necessary). Thank you!
Walking Liberty Half Dollar Super Power Coin Set
Product Code: WLHDSPCS - RB
Availability: 6
Related Products