Quiver + Purse (AKA, "VDR") by Kelvin Chow

Simply put, this is one of the most powerful utility devices ever created for close-up magic and mentalism.
Highly versatile -- Practical -- Ingeniously designed gimmick -- Made of high quality leather.
The purse can be handled by the audience and is a must-have for close-up magicians and mentalists!
This is the LATEST version...the new, LARGER size! (Purse measures approximately 3-1/2" x 3-1/2")

Just imagine:
- A handful of coins visually changes into a bill
- Magician asks an audience to grab a few coins at random and the magician can predict the exact value
- Instant vanish and transposition of small objects may be done with ease
- Bill switches done without sleights
Bonus: It functions like a mystery card-bill-billet box, too!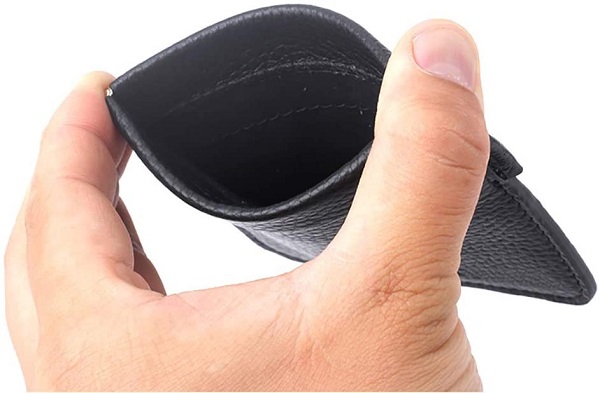 The effects above are for reference.... The possibilities are virtually unlimited and you're free to create any routines you want!
PLEASE NOTE - These are listed in my "Used/Collectible" section, because I think they were probably store demo units, although they appear brand new. They came from a recently closed magic shop and do NOT have the original packaging with them. When I sold new Quiver+ purses in the past, they included an instructional DVD. The last couple I sold had faulty DVDs with them. I found one of the DVDs that still worked and uploaded the video to my site. Now when you buy one of these purses, you'll receive a link to the on-line video tutorial. You can always refer back to it, or download it and store it on your own computer.

NOTE - This is in the "Used/Collectable" section, I have just a couple of them available. If you're interested, please do NOT delay!
Original retail was $49.95. Own this one for only...
$29.95
PLEASE NOTE - If you are not ordering for U.S. delivery, you MUST contact me BEFORE ordering to determine shipping options and rates. The flat rate postage fee DOES NOT APPLY to orders shipped OUTSIDE the United States. Simply send me a list of the items you wish to order and I'll get back to you with the shipping options and rates. Once you decide how you'd like the order shipped, I can send a PayPal invoice directly to you (or we can work out other payment arrangements, if necessary). Thank you!

Quiver + Purse
Product Code: QP - RB8
Availability: 1
Related Products
Tags: VDR, switch, purse, change, quiver, magic, trick, mentalism