Fascinating little booklet from Great Britain in the early 1900's. Fred Rome produced a number of patter books for magicians; this booklet in the same format was his offering to vents. Features four different routines plus a great number of "short gags". Also features a number of ads from magic dealers, including a wonderful full page ad on the inside from cover from Will Goldston's company depicting their various vent figures and vent book.

Yes, it's unquestionably dated material. The sad part is, some of it is STILL funnier than some of what I've seen some vents trying to put over to a modern audience. Yikes. Honestly...this is for the rare vent book collector!
Here's a photo of the back cover...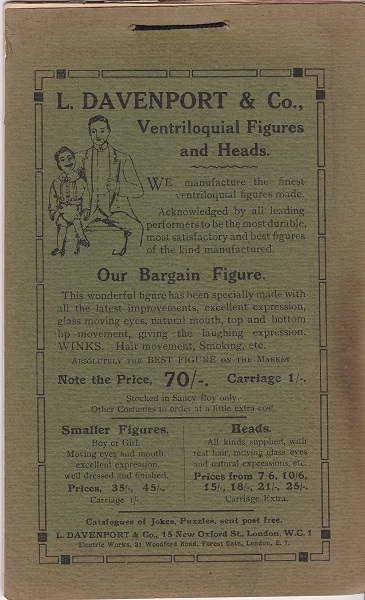 In very fine condition. 15pp, folio-type binding. Measures approximately 5-1/8" x 8-1/2" with soft cover.
Comes in an archival mylar sleeve with acid-free backboard for protection.

$20.00

PLEASE NOTE - If you are not ordering for U.S. delivery, you MUST contact me BEFORE ordering to determine shipping options and rates. The flat rate postage fee DOES NOT APPLY to orders shipped OUTSIDE the United States. Simply send me a list of the items you wish to order and I'll get back to you with the shipping options and rates. Once you decide how you'd like the order shipped, I can send a PayPal invoice directly to you (or we can work out other payment arrangements, if necessary). Thank you!

Ventriloquial Verbosity - Book by Fred Rome
Product Code: VV - VB12
Availability: 1
Related Products
Tags: Ventriloquism, ventriloquist, British, Rome, scripts, routines, comedy, gags