Here's a wonderful cup for the real worker. Why? Because it's made of leather and lined with green felt. It looks like an ordinary cup you might use in a dice game! One thing for certain....it does NOT look like a magic prop! One lovely feature is the "give" in the leather. This enables you to "grip" a solid load ball in the cup, even when it is mouth down. You can release the large load ball whenever you're ready!

The basic Chop Cup routine: A little game is played with an audience member....try as he might, the spectator can never keep track of whether the ball is under the cup or in your pocket. Then, at the end, JUMBO balls are produced from the cup! And the best part is, the cup does 90% of the work for you!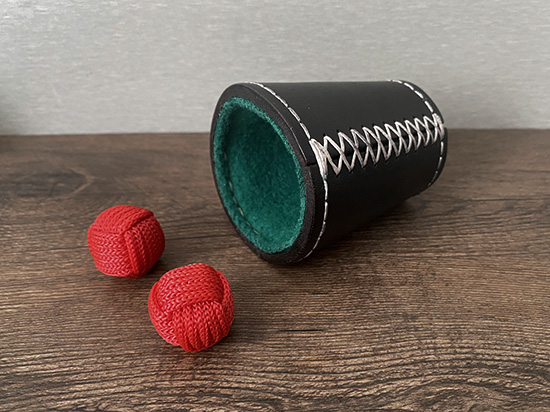 This black leather cup (3-1/4" tall by 2-1/2" mouth) comes complete with 1" red "monkey fist" balls (no load balls provided). Individually boxed with instructions,
The suggested retail price for this lovely Chop Cup is $34.95. It's yours for only...
$29.95

PLEASE NOTE - If you are not ordering for U.S. delivery, you MUST contact me BEFORE ordering to determine shipping options and rates. The flat rate postage fee DOES NOT APPLY to orders shipped OUTSIDE the United States. Simply send me a list of the items you wish to order and I'll get back to you with the shipping options and rates. Once you decide how you'd like the order shipped, I can send a PayPal invoice directly to you (or we can work out other payment arrangements, if necessary). Thank you!

Chop Cup - Leather
Product Code: CCL - MB9
Availability: 1
Related Products